The Podcast Awards, also known as the People's Choice Podcast Awards, is an annual event designed to reward the best podcasts worldwide as voted by the general public. It is open to shows at a global level and its purpose is to promote and encourage podcasters by allowing fans to show their appreciation and nominate their favorite participating shows.
In 2017, the nominations began on July 1st and listeners were able to nominate shows from 20 categories over a 30-day period, and the awards show was live streamed during the International Podc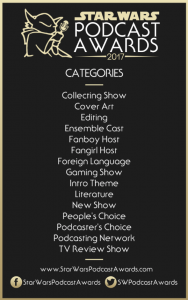 ast day live event.
Listeners were able to submit nominations in categories like arts, business, comedy, education, entertainment, health, kids&family, games&hobbies, music, technology and so on. All shows participating in the race for an award were automatically eligible to win the People's Choice Category too.
In the Arts category, the winner for 2017 was We Like Drinking, defeating other nominees like Beauty and the Bitch, Resourceful Designer, Sherlock Holmes: Trifles, WiskyCast and others. Plumbing the Death Star took the prize in the Comedy category, while the winner in Entertainment was We're Drunk & We Know Things.
The Podcast Award for Education went to Grammar Girl, while the accolade in the Business category was awarded to Dreamers Podcast. Meanwhile, there was also a prize for the best podcast in the Government & Organizations category and this was Everyday Superhumans, snatching the prize from Intersections, This Week at VA and other contenders.
Trivial Warfare was first placed in the Games&Hobbies category, while the Health prize went to Optimal Living Daily and The Fantasy Footballers were the fans' favourite in Sports. What Fresh Hell: Laughing in the Face of Motherhood was the winner in the Kids&Family category. Besides these, there were also awards for several other categories like LGBTQ, Mature, Politics, Religion and Spirituality and TV&Film.
This was the 12th edition of the Podcast Awards and The Adam Curry People's Choice Award was won by The Fantasy Footballers, which shows that sports is people's favourite pastime after all, even when it comes to podcasts.
Registration for the 13th Annual Podcast Awards will open on January 15th, 2018.